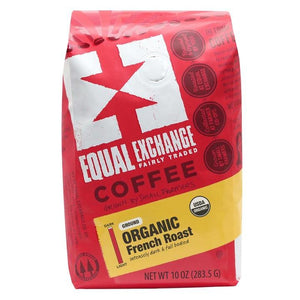 ORGANIC FRENCH ROAST COFFEE WHOLE BEAN - 10 OZ
Equal Exchange pioneered alternative trade back in 1986 with coffee from Nicaragua, inspiring the fair trade coffee movement. Since that time, we've made major waves in the industry resulting in lasting transformation. Now, three decades later, we source from dozens of democratically organized producer groups in Latin America, Africa, and Asia.
This dark gem is full of chocolaty richness, with a subtle smoky flavor.
This is my coffee of choice.